What's better than painting Indianapolis homes?
Painting hands, that's what!
Remember when you were a kid and how every year when Thanksgiving would roll in, you were allowed to actually put paint on your hands, and maybe even your feet? Remember brushing different colors over your fingers and palm so you could press it down onto a piece of construction paper, then pencil in eyes and a beak — your handprint then miraculously turning into a turkey to be transported home and proudly given to your parents on Thanksgiving day.
Although we paint a lot more surfaces — and arguably more sensible surface now than our hands — there's still nothing better than being given permission to do something that was generally not acceptable in most classrooms, or homes for that matter. So this Thanksgiving, here at Flora Brothers Painting we'd like to encourage everyone to take some time and make a trip down your elementary-school-kid memory lane and paint a hand turkey. Get everyone together — moms, dads, aunts, uncles, kids, teenagers … and have fun with it. Make one large piece of artwork that years from now you'll cherish just as much as those handprint turkeys of days gone past. Or, at the very least, you'll have given the kids something to do long enough to keep them out of the kitchen for an hour.
Enjoy. And happy Thanksgiving everyone!
What you'll need for your handprint turkey project:
Poster board — to make one large, family keepsake
Construction paper — if you want to make individual ones
Washable paints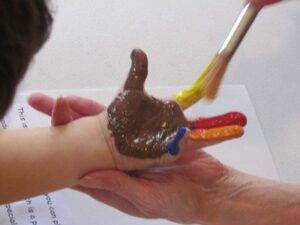 Brushes for painting hands
Cotton swabs for dipping into paint and decorating the turkeys
Pens and or pencils to write names beside people's handprints
Newspaper to cover the project area — maybe a table not being used for dinner or floor space
A sink ready for hand washing when the project's over